viagra 'serif';">Information about the 8-day/7-night Retreat Tour (May 1 - May 8, 2015)
in Tokyo and Narusawa (Kyukamura Resort, venue of retreat)
as part of the Thich Nhat Hanh & Plum Village Monastics Teaching Trip in Japan 2015 (April 27 - May 13,2015)
Hong Kong , Jan 8, 2015
Dear friends,
Asian Institute of Applied Buddhism (Plum Village Hong Kong) is a co-organizer for the Thich Nhat Hanh & Plum Village Monastic's Teaching Trip in Japan 2015, to be held from April 27 to May 13, 2015. There are requests from practitioners outside of Japan to attend the events. An international lay delegation whole-trip tour, from April 28 to May 13, is held for those who could attend the whole trip. You can find information about the whole-trip tour here. For those who could only attend a shorter period, a lay delegation Retreat Tour from May 1 to May 8 is held. The information below is for the 8-day/7-night Retreat Tour.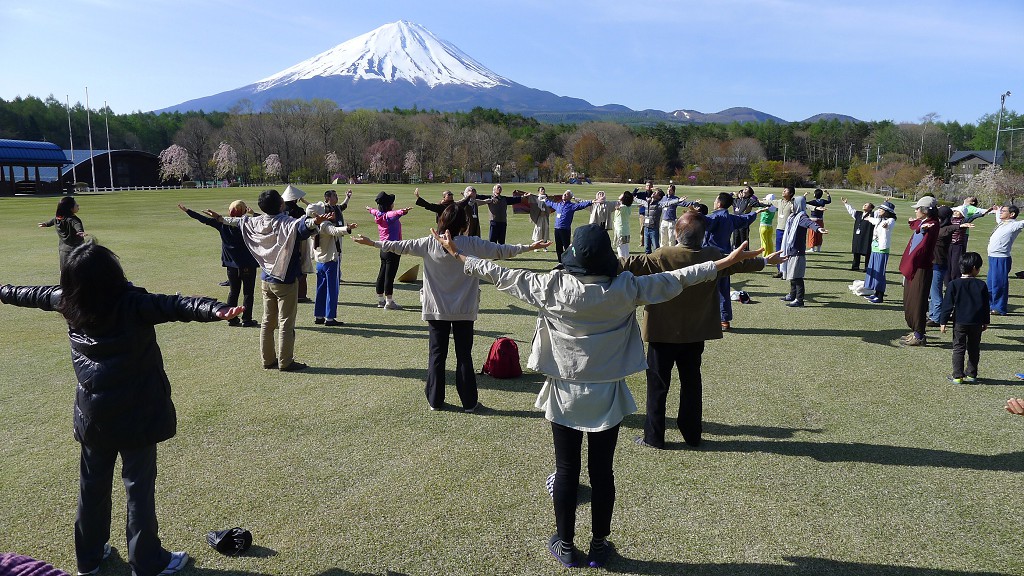 Practicing 10 Mindful Movements at Mt. Fuji Retreat in May, 2014.
The main activities of the Retreat Tour are the 5-day/4-night retreat May 2-6 at Kyukamura Resort (at the foot of Mt.Fuji), Narusawa and a visit to Mt. Fuji in the morning of May 7. While in Tokyo, you can have your own sightseeing activities of nearby landmarks such as the Tokyo Tower, the Jodo-Shu Temple ... on the stay over days of May 1, May 7 and 8. Arrival date is May 1 and departure date is May 8. The full itinerary is as below.
May 1 : Arrive at Narita or Haneda airport. Stay 1 night in Tokyo.
May 2 : Move to Mt.Fuji Retreat venue to check in the retreat.
May 2-6 : Mt Fuji Retreat (Yen 73,000@)
May 6 : Stay one more night at the venue.
May 7 : Morning: Visit Mt.Fuji by bus with Monastics
Afternoon: go back to Tokyo to stay one night there .
May 8. : Departure
For those who would like to register for the retreat on their own, and can arrange own transportation to and from the retreat venue in Japan, online registration for the retreat only is available here. Cost for the retreat only is JPY73,000.00. Information for the retreat is available at http://tnhjapan.org/info/. Payment is paid directly to the organizer in Japan. Please note that the Japan is in the Golden Week period during the time of the retreat, therefore, hotel accommodation and transportation demand are very high. Difficulties in getting accommodations and transportation may be expected. Please arrange them far in advances.
For those who would like to register for the Retreat Tour, please register online at pvretreats.org/aiab. Cost for the package is JPY108,000.00. Payment is paid to the Plum Village Foundation Hong Kong (in Japanese Yen). Instructions for making payment are provided in the confirmation e-mail after your online registration.
Plum Village Hong Kong does not charge any fees for handling this tour. This tour is organized by Japanese Tourist Bureau, the largest Japanese Travel Agency. Please note that this cost does not include the transortation cost to and from airport on the arrival and departure date, because it depends on the arriving airport. Those costs will be paid by cash later once in Japan.
Contacts: Sr. Tu Nghiem (Sr. Practice), Asian Institute of Applied Buddhism, Hong Kong. E-mail: This email address is being protected from spambots. You need JavaScript enabled to view it..
Transportation Notes:
What arrivial/departure airport should I use for Tokyo for the Retreat Tour?
Tokyo International Airport commonly known as Haneda Airport or Tokyo Haneda Airport (IATA: HND, ICAO: RJTT) and Narita International Airport (IATA: NRT, ICAO: RJAA), also known as Tokyo Narita Airport can be used for booking your flights to and from Tokyo. However, Haneda airport is closer to Tokyo. If flights to/from Haneda airport available then it should be your first choice. Otherwise, use Narita.
How do I get to the hotel upon arrival? We will arrange the transportation for you. After buying your flight tickets, please inform us about your arrival/departure information via the online registration site, pvretreats.org/aiab. Instructions will be sent to you. You will paid for the these expenses by cash. They are not included in the package cost.

---
Airport Information: From Wikipedia, the free encyclopedia
Tokyo International Airport - Haneda Airport
Tokyo International Airport (??????T?ky? Kokusai K?k??), commonly known as Haneda Airport (????Haneda K?k??) or Tokyo Haneda Airport (IATA: HND, ICAO: RJTT), is one of the two primary airports that serve the Greater Tokyo Area, and is the primary base of Japan's two major domestic airlines, Japan Airlines (Terminal 1) and All Nippon Airways (Terminal 2), as well as low-cost carriers Air Do, Skymark Airlines, Solaseed Air, and StarFlyer. It is located in ?ta, Tokyo, 14 kilometres (8.7 mi) south of Tokyo Station.
Haneda was the primary international airport serving Tokyo until 1978; from 1978 to 2010, Haneda handled almost all domestic flights to and from Tokyo as well as "scheduled charter" flights to a small number of major cities in East Asia, while Narita International Airport handled the vast majority of international flights. In 2010, a dedicated international terminal was opened at Haneda in conjunction with the completion of a fourth runway, allowing long-haul flights during nighttime hours.[3] Haneda opened up to long-haul service during the daytime in March 2014, with carriers offering nonstop service to 25 cities in 17 countries.[4]
Haneda handled 68,906,636 passengers in 2013; by passenger throughput, it was the second busiest airport in Asia and the fourth busiest in the world, after Hartsfield-Jackson Atlanta International Airport, Beijing Capital Airport (Asia's busiest) and London Heathrow Airport.[5] It is able to handle 90 million passengers per year following its expansion in 2010. With Haneda and Narita combined Tokyo has the third busiest city airport system in the world, after London and New York City.
Narita International Airport
Narita International Airport (?????? Narita Kokusai K?k??) (IATA: NRT, ICAO: RJAA), also known as Tokyo Narita Airport, formerly and originally known as New Tokyo International Airport, is the primary international airport serving the Greater Tokyo Area of Japan. It is located 57.5 km (35.7 mi) east of Tokyo Station and 7 km (4.3 mi) east-southeast of Narita Station[3] in the city of Narita in Chiba and the adjacent town of Shibayama.
Narita handles the majority of international passenger traffic to and from Tokyo and Japan, and is also a major connecting point for air traffic between Asia and the Americas. The airport handled 35,379,408 passengers in 2013.[2] It is the second-busiest passenger airport in Japan,[4] busiest air freight hub in Japan,[5] and tenth-busiest air freight hub in the world.[5] It serves as the main international hub of Japan's flag carrier Japan Airlines, All Nippon Airways, Nippon Cargo Airlines, and low-cost carriers Jetstar Japan and Vanilla Air. It also serves as an Asian hub for Delta Air Lines and United Airlines. Under Japanese law, it is classified as a first class airport.